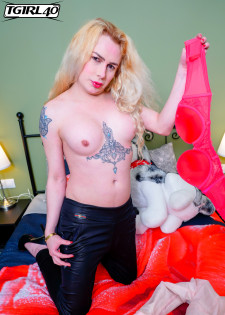 It's been a long time coming. Johanna has been locked down alone in Spain, and when she was finally allowed out to play earlier this year, she called Dave Khull and asked to display her exhibitionism as a way to get herself hard and horny. She's got a small cock, but it peeks out from her panties, which she then gets hard and masturbates to the camera culminating in a sticky orgasm. Now the beast is awakened, she's going to want a lot more sex.
9th Jun 2022
17:28 HD Video
& 101 Photos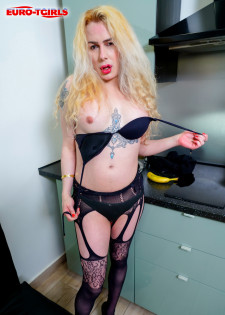 Tapas, the small bites of food served along side drinks in Spain, which taste so good! Our Spanish model, Johanna Smith returns and she wants you to sample her small bites. You can nibble on those light brown nipples, or use your lips to nuzzle her plump red smackers. Take her mini-sausage into your mouth, full of meaty goodness before sucking on some salty nuts. Finally, you can go direct to the dessert as she spreads her legs and invites you to the finest Spanish cherry.
26th May 2022
12:23 HD Video
& 104 Photos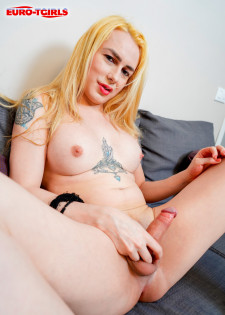 You can't get any luckier – your ordinary day will turn into a special one today with Johanna Smith. This gorgeous blonde wants to have some fun while you watch because it turns her on so she starts masturbating her cock right there and then until she cums.
18th Aug 2020
16:07 HD Video
& 115 Photos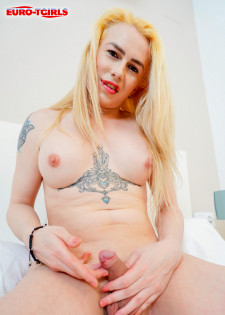 Blonde Grooby newbie Johanna Smith wants your attention as she takes Euro TGirls stage today. Her big boobies and her smoothly shaved ass and cock will definitely turn you on and the only appetizer you need. Go on and have fun with her!
4th Aug 2020
10:23 HD Video
& 110 Photos